Trafford Council: Some services outsourced to contractors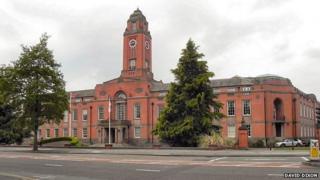 Plans to outsource some services - including rubbish collections, street lighting and road cleaning - have been approved by Trafford Council.
The Conservative-led local authority must save £24m from next year's budget and its leader Sean Anstee said the "positive move" would save £2m a year.
Contractors can now bid to take over the services.
Councillor Andrew Western, leader of Trafford's Labour Group, warned that services will suffer.
Mr Anstee said the move was "an opportunity for us to be able to protect jobs for our workforce and improve services at the same time".
"It's a very positive move, I think, for us to be able to operate in a constrained financial environment, yet be able to continue to deliver services that residents want to see.
"One of the key aims is to be able to make savings and protect jobs at the same time."
But Mr Western said it was "a bad deal for local residents".
He said: "We've got real concerns about the accountability these companies will have to deliver effective services.
"I don't believe those services will be delivered to the same standards that they are at the moment."
The authority previously announced plans to close some children's centres and youth clubs, some libraries and reduce school-crossing patrols.
Council workers and campaigners held a protest outside the meeting on Monday evening when the plans were approved.
Ray Carrick, regional organiser for the GMB trade union, said local residents were locked out of the meeting, but the council said this was a mistake.