Labour backs Greater Manchester NHS devolution plan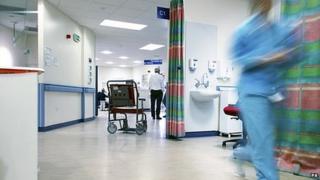 Labour says it backs a devolution plan for the NHS in Greater Manchester and will push ahead with it if they win the general election.
Last month, Chancellor George Osborne said the £6bn health and social care budget would be taken over by the region's councils and health groups.
It will be the first English region to gain full control of health spending.
After a regional meeting of council leaders and MPs, Labour said devolution was a "key part" of its policy.
The plan, due to come into force from April 2016, would see local leaders control how budgets are allocated.
A shadow Greater Manchester Health and Wellbeing board is expected to run from April before control of the budget is handed over a year later.
"Labour fully supports devolution and the integration of health and care services and the steps Labour councils are taking to achieve that," a party spokesman said.
"Throughout this parliament, we have been arguing for the devolution of decision making in a range of areas and for the integration of health and care services at the local level."
'Better integration deal'
Currently, decisions about what kinds of health and social care services are available are split between local authorities, clinical commissioning groups and NHS England.
The move aims to bring together the separate budgets for all of these services and give these to a new body.
Despite backing the plan, Labour warned the move posed "a number of important questions over funding, accountability and reorganisation".
Sir Richard Leese, Labour leader of Manchester City Council, said: "There is also agreement that - with a Labour government - not only would be able to have a better deal on integration, there will be more resources for both health and social care."
Some Labour MPs had expressed reservations about the move, with Mr Burnham, Labour's shadow health secretary, claiming it could create a "Swiss cheese NHS where some bits of the system are operating to different rules or have different powers and freedoms".