Cows fatally stabbed at arson-hit Ashton-under-Lyne farm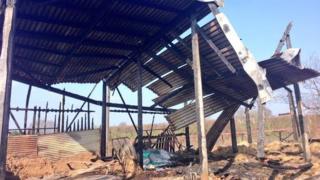 Three cows have been stabbed to death and nine others injured in what police have called a "cruel" attack at a farm.
Greater Manchester Police (GMP) said the animals were attacked between Tuesday evening and Wednesday morning in the cowshed in Ashton-under-Lyne.
GMP said they are linking this incident with an arson attack on the farm's barn early on Sunday morning, in which machinery was damaged.
Police said the farmer cannot believe someone "could be so cruel".
Det Con Rick McIvor said: "Due to the short space of time in which these crimes have taken place, we believe the same offenders are responsible.
"The owner is obviously deeply distressed someone has targeted his business in such a way."
He added: "After the offenders set fire to the barn on Sunday morning, they attempted to torch the cowshed but were unsuccessful.
"For some reason, only known to them, they have returned and killed the cows."
Garry Watson, branch manager of the NFU Mutual Insurance, said he had never seen an incident like this.
"It is incomprehensible what has happened with the animals," he said.
"The arson is bad enough but what has happened with the animals is unjustifiable.
"We can't think of any reason why anybody would want to do this."