Cyril Smith child abuse probe: Police officer threatened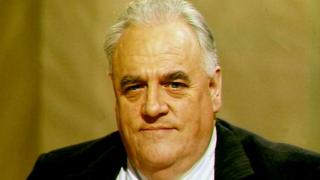 Claims a police officer was threatened with the Official Secrets Act over allegations of child sex abuse relating to Cyril Smith are to be investigated.
The Manchester Evening News has reported claims an officer was warned to keep quiet after he found the former Rochdale MP at a house with two boys.
Greater Manchester Police (GMP) said the unnamed former officer had not reported the claims to police.
But GMP said they would be examined as part of its alleged "cover-up" probe.
Twenty-three people have claimed they were abused by the Liberal MP, who died aged 82 in 2010.
Police said allegations against Smith related to teenage boys in Rochdale between 1960 to 1987.
Northamptonshire Police is also probing claims police released Smith after child pornography was found in the boot of his car on the M1 in the 1980s.
---
Alleged abuse by Cyril Smith
Six incidents allegedly took place at Knowl View where Smith was chair of governors
Ten at Cambridge House children's hostel in Rochdale
Seven at other Rochdale locations
---
Assistant Chief Constable Ian Wiggett said: "These allegations will be examined by Operation Clifton, a criminal investigation launched by GMP in July 2014 into how previous reports of child sexual abuse were handled or allegedly covered up.
"Clearly there are people who are willing to talk to the media but who have not yet spoken to police."
He appealed for anyone with information about the way authorities including GMP dealt with reports of historical child abuse to come forward.
He also urged victims who suffered abuse in care homes and other institutions who made complaints at the time or who "have suffered in silence" and not reported abuse to contact police.
He said GMP had allocated "considerable resources" to the investigation and was "committed to investigate all the allegations as best we can" in order "to get to the truth".
"GMP has no interest in covering up any of these issues and indeed many of the current members of the force were not serving at the time when some of this is alleged to have occurred," Mr Wiggett said.
On Tuesday, BBC Newsnight reported an undercover police operation that gathered evidence of child abuse by Smith and other public figures was scrapped shortly after the MP was arrested in the 1980s.