Tameside Council 'at fault' for ignoring ombudsman's advice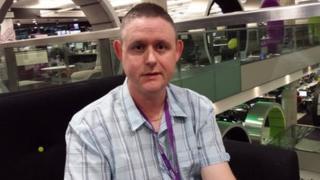 A council is "at fault" for ignoring advice from the Local Government Ombudsmen (LGO) in a case about care costs, a report has said.
Tony Cryer complained he had to pay an extra £88 a week for a change in his elderly mother's care plan in the 12 months before she died.
Tameside Council has not refunded him, despite a recommendation from the LGO.
The council said taxpayers would not thank it "for making payments, which it had no justification to make".
An LGO spokesman said the body "had no legal power to force councils to follow our recommendations but they almost always do".
Jane Martin, from the LGO, said Tameside Council should apologise to Mr Cryer and reimburse him but the advice has been ignored.
Mr Cryer was told by the authority in Greater Manchester, in March 2013, his mother Jean, who had dementia, would be moved if she could not pay more towards her care.
He said Age Concern had advised him it was not in his mother's best health interests to move and he paid nearly £4,000 for her care in the 12 months until her death.
"The council put us under so much financial and emotional pressure. All I want is an apology," he said.
Disputed findings
In September, the LGO found in Mr Cryer's favour and recommended Tameside Council reimburse the money, make a one-off payment in recognition of the "time and trouble" he had faced, make an apology and review another 160 cases.
The council "strongly disputed" the ombudsman's findings, stating she had "unlawfully exceeded her powers in issuing the report".
A new LGO report stated the council had only complied with the final recommendation and said the authority was "incorrect in its view that the ombudsman has acted outside of her powers".
It also said it was "notable" the council withdrew its offer of compensation to Mr Cryer following the publication of the report and it had not explained why not all the recommendations were implemented.
Tameside Council said it "offered to carry out an assessment of the complainant's mother in accordance with central government guidance".
"Had that offer been taken up, there would have been no need for the ombudsman to pursue her investigation."