'Easter Island head': Rapa Nui statue arrives in Manchester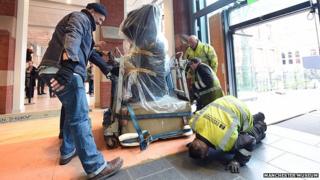 A three tonne "Easter Island head" has been manoeuvred into place for an exhibition at the Manchester Museum.
Moai Hava, which means "dirty statue" or "to be lost", has been loaned to the institution by the British Museum.
The 5ft (1.5m) statue is the centrepiece at the upcoming show about Rapa Nui, which was named Easter Island by European explorers.
The statue is one of only 14 carved from basalt, as the majority are made of the softer volcanic tuff.
About 880 moai were quarried, carved and erected by the island's inhabitants between AD1100 and 1600.
The team at the museum used cranes and specialist lifting equipment to carefully move it into place in an operation which took four hours.
A spokesman for the museum said the exhibition, which runs from 1 April to 6 September, would take "a fresh look at these impressive statues".