Manchester City apologises over 'water issues' at Etihad stadium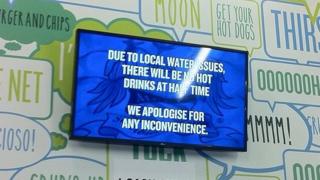 Manchester City have apologised to fans after "local water issues" left their ground without running water during the match against West Bromwich Albion.
The problem, which meant the club shut some toilets and could not supply hot drinks, hit the Etihad Stadium during the first half of the game.
The club apologised using concourse TVs and the public address system.
United Utilities said engineers had "worked quickly to return water to the stadium before the final whistle".
"There was a problem with a valve on the network close to the ground, which has now been resolved," a spokesman said.