Greater Manchester devolution referendum rejected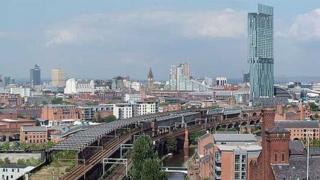 Calls for a Greater Manchester referendum on devolution, to avoid "a massive democratic deficit", have been rejected by council leaders.
Wake Up Wigan (WUW) wants an area-wide vote on whether an elected mayor and other devolved powers are wanted.
A deal for devolution to Greater Manchester was announced in November.
But a spokesman for the Greater Manchester Combined Authority (GMCA) rejected WUW's idea, saying devolution is "democratically accountable".
He said: "The underlying principle of devolution is that, wherever possible, decisions about Greater Manchester should be taken here in Greater Manchester rather than by Whitehall civil servants and Westminster politicians.
"This is what's happening. It means decisions can be taken based on local knowledge and an understanding of local priorities, challenges and opportunities.
"The elected mayor will work closely with GMCA's political leadership, which is made up of the 10 elected leaders of Greater Manchester councils. It is a democratically accountable model."
Stephen Hall, president of the Association of Greater Manchester Trade Unions Councils, is from the WUW campaign.
He had called for the referendum, saying it was "hard to fathom how something which is supposed to empower the people shouldn't involve them".
"People should be involved in a discussion about what devolution should look like, rather than being told 'This is what you're having, whether you like it or not'," he said.
It was revealed in January that the region would have an interim mayor from June, who would be chosen from existing council leaders or someone who already holds an elected post in Greater Manchester, such as a senior councillor, MP or Police and Crime Commissioner. Elections for a regional mayor will be held in 2017.
Devolution will give additional powers on areas including health, transport, planning, housing as well as skills and business support
Greater Manchester
Metropolitan area formed in 1974
Made up of 10 councils: Manchester, Salford, Bolton, Bury, Oldham, Rochdale, Stockport, Tameside, Trafford, Wigan
Population is about 2.7 million
Covers an area of about 500 sq miles (1,295 sq km)
Has an economy bigger than Wales or Northern Ireland
Designated a City Region in 2011 when the Greater Manchester Combined Authority was established