Salford Royal Hospital trust rated 'outstanding' by watchdog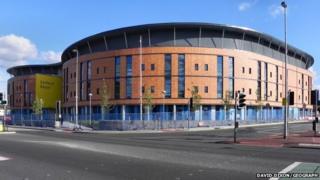 The NHS trust which runs Salford Royal Hospital has been rated as "outstanding" by the health watchdog.
The Care Quality Commission (CQC) report praised the Salford Royal NHS Foundation Trust for services including emergency and end-of-life care.
It follows a visit in January when inspectors were looking to see whether services were effective and well-led.
It is only the second time a hospital in England has been given the top rating by the CQC.
Trust chief executive Sir David Dalton said the accolade was "thoroughly well deserved" for all of the staff.
He said: "We hope our patients and visitors also share in our pride that Salford Royal is once again being highlighted as one of the country's safest and most caring trusts."
'Well-staffed'
CQC inspectors spent four days at the trust within both acute and community services.
They found safety and effectiveness to be "good" and care, responsiveness and leadership to be "outstanding".
The praised care in the community and the way members of staff talk positively about patient care.
They also said wards were well-staffed and people worked flexibly to ensure any shortages were covered.
The CQC's Chief Inspector of Hospitals, Professor Sir Mike Richards, said: "Just about all of the people we met on this inspection spoke positively about ensuring that patients received safe, clean and personal care every time.
"We found the services were tailored to meet the needs of individual people both in Salford Royal Hospital and across the community, with services providing continuity and integrated care from the hospital into the community.
"The challenge now is further improvement."