World War One: Manchester's manufacturing role revealed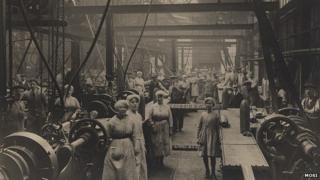 A new exhibition has opened at the Museum of Science and Industry (MOSI) in Manchester, looking at how the city's manufacturers supplied munitions during World War One.
In 1915, with the British Army running short of artillery shells, future prime minister David Lloyd George was tasked with increasing production.
The MOSI exhibition features artefacts including photographs and documents.
They illustrate how all levels of society responded to the appeal.
A selection of original diaries, company archives, sketches and letters written by Oldham factory owner and electrical engineer Sebastian Ziani de Ferranti will be on display.
He converted his entire factory output from domestic goods to shells and fuzes - a device to detonate an explosive charge.
He wrote letters to his sons Basil and Vincent who were fighting at the front. His daughter Vera worked on the production line in the factory.
Other manufacturing companies also supported the war effort - Mather and Platt worked on sprinkler systems, Thornton Pickard produced aerial reconnaissance cameras, Beyer Peacock switched from locomotive manufacturing to anti-aircraft gun carriages and bomb-throwers for ships.
MOSI head of exhibitions Rachel Knight said she hoped to showcase an "insightful, original and personal take on the sensitive and important subject of Britain's first industrial war".
The Innovation Race: Manchester's Makers Join the First World War opens at the Museum of Science and Industry, Manchester, on 28 March