Ashton Canal foam wall investigated after chemical fire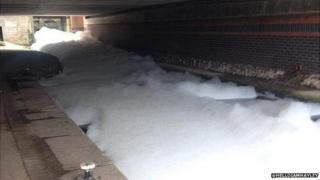 A 30m (98ft) wall of foam which appeared along a canal after a major chemical fire is being investigated.
The blaze broke out at Carbogen Amcis Ltd, Clayton, a mile away from Manchester City's Etihad Stadium on Sunday.
A huge plume of smoke could be seen rising from the firm's Clayton Lane unit, which develops and produces pharmaceuticals.
The Environment Agency said the foam has caused "minimal impact" to water.
About 50 firefighters fought the blaze through the night as it spread to a pallet, containers and a warehouse.
Residents living within a two-mile radius were asked to keep their doors and windows closed and stay indoors by Greater Manchester Fire and Rescue Service.