Mr Smith's fire: Eight arrested after blaze at former Warrington nightclub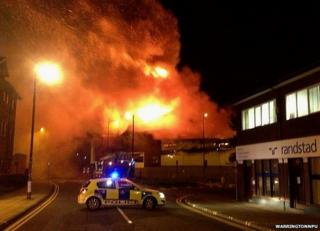 A blaze has ripped through a former nightclub in Warrington and torn the roof off the building.
At its height, 70 firefighters tackled the fire at Mr Smith's on Wilson Patten Street at 02:00 BST.
The fire service said unstable areas at the site were due to be demolished.
Four 17-year-old boys, a boy and girl aged 16 and a 15-year-old girl, all of Warrington, are being held by police. A man, 43, arrested on suspicion of arson has been released without charge.
No-one is thought to have been injured in the blaze and nearby buildings were evacuated during the fire.
Cheshire Fire and Rescue Service said the scene was dangerous for crews as the roof had collapsed into the building.
The nightclub, which closed in 2010, was a regular setting for the Granada late-night TV show The Hit Man and Her presented by Pete Waterman and Michaela Strachan.
Record producer Pete Waterman told BBC Radio Manchester the live TV show filmed at the club with music blaring was "pioneering".
He said: "We just showed what was going on in nightclubs and Mr Smiths was typical of 80s disco."
The empty building was going to be used for a youth project in the town but the chief executive of Warrington Council, Steve Broomhead, said the fire had set it back years.