Transport complaints in Greater Manchester up by 40%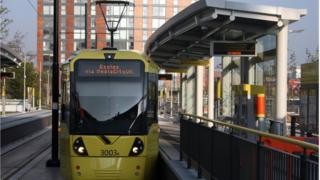 Complaints about transport in Greater Manchester have risen by 40%, new figures have revealed.
There were around 3,500 complaints about trains, trams and buses in the last six months of 2014, Transport for Greater Manchester (TfGM) said.
The transport authority said during that period there were more than 110m bus journeys, 11m rail journeys and 15m Metrolink journeys in the region.
TfGM said there had been unavoidable disruption due to improvement work.
Figures released by the authority compared with the last six months of 2013 showed a 65% increase in the number of complaints about the Metrolink tram service - the biggest rise within the different transport services.
---
Common complaints
State of some bus and railway stations and bus stops across Greater Manchester
The roadworks needed to create bus lanes on the East Lancs Road
Price rises caused by the introduction of evening peak fares on Northern Rail.
---
A statement from TfGM said: "We're seeing an unprecedented level of investment and growth in public transport across Greater Manchester.
"Unfortunately, that brings with it an unavoidable element of short-term disruption.
"We value our customers' comments, which can highlight new areas for improvement."
The statement added the authority has worked hard to make it easier for public transport users to contact it with new phone systems, extended call centre operating hours and a presence on Twitter and Facebook.