Plane spotters: Three Britons to be released from UAE jail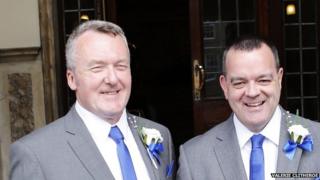 Three British plane spotters who were held in a United Arab Emirates prison on suspicion of spying are to be freed later, the wife of one has said.
Conrad Clitheroe and Gary Cooper, both from Stockport, and expat Neil Munro were arrested by a policeman who saw them monitoring planes near Fujairah Airport in February.
Val Clitheroe told BBC News her husband and his friends were to be freed.
The Foreign and Commonwealth Office (FCO) has yet to confirm their release.
Mrs Clitheroe said: "I just can't believe it is happening - it has been a living hell."
Gary Cooper's wife Lynne was at work when she broke the news to cheering workmates.
"It's been the best day ever," she said.
The United Arab Emirates' Ministry of Justice has also yet to comment.
Radha Sterling, from the Detained in Dubai legal advice group, told BBC News that, following a court hearing earlier on Monday, she had been told by the lawyer acting for two of the men that they would be released.
'Relieved and happy'
Espionage charges, the group said, had been dropped at the Supreme Court in Abu Dhabi.
"The charges are being dropped with no fines or penalties," Ms Stirling added. "They've had a long time to wait to be told your case is ridiculous."
She said the trio had been left "traumatised" by their ordeal.
"Valerie is so relieved and so happy," Ms Stirling said.
The three men were reportedly taking notes near Fujairah Airport, about 80 miles (130km) from Dubai, when they were arrested on 22 February.
Mr Clitheroe, 54 and 45-year-old Mr Cooper were visiting their friend Mr Munro, who was born in Manchester, when they were arrested by an off-duty police officer who had seen them monitoring planes from a car.
Relatives were told they were held for "national security" reasons. The men insisted they had not taken any photographs of aeroplanes.
A local police official said the men had been taking photographs near an airport and were using a telescope.
While plane spotting is legal in the UAE, it is not widely understood.