Jordan Anthony Ratcliffe: £20k reward over missing man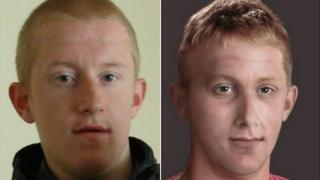 A £20,000 reward has been offered to help find a Manchester man who went missing more than six years ago.
Jordan Anthony Ratcliffe, from Moston, was 16 when he was dropped off by an aunt in Tib Street in Manchester's Northern Quarter on 31 August 2008.
Greater Manchester Police (GMP) have released a computer-generated image of what Jordan may look like at 23.
Officers said he may have been seen in the Portsmouth area last year, although there have been no further sightings.
Kimberley Pierce, his aunt, said: "When I dropped Jordan off, not for one second did I believe it would be the last time I saw him.
"It has been nearly seven years of wondering where he is or what has happened to him and I would ask anyone who has information to contact police as soon as possible."
Julie Potts, GMP missing persons investigating officer, said: "Since Jordan initially went missing, we have had serious concerns for his safety.
"We know that he knew a number of people who were involved in minor criminality and are working on the theory there may be a link between this and his disappearance."