Salford nursery damaged in petrol bomb arson attack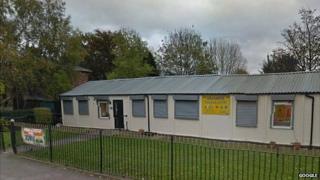 A nursery for children with special needs has been targeted in a petrol bomb arson attack in Greater Manchester.
Westwood Smarties pre-school nursery school in Winton, Eccles, suffered about £20,000 in damage in the blaze, which broke out at 23:00 BST on Sunday.
Police said the offender smashed a window with a paving slab before throwing two lit petrol bombs inside.
The nursery, which was empty at the time, will remain closed until 5 May.
Manager Jane Abell, said in statement on the nursery's website: "We apologise for the sudden closure of the nursery but as you are aware it was out of our control.
"The nursery will remain closed until a full clean-up has happened."
Greater Manchester Police are now appealing for witnesses or anyone with information to come forward.
Det Constable Paul Davies said: "This fire has caused an awful lot of destruction and disruption, and the bill will likely run into the tens of thousands.
"This nursery cares for children with certain health needs and is the only one of its kind in the area, meaning that these poor children have been left without a school until the damage is repaired."