Hot tub blaze at Man United star Chris Smalling's home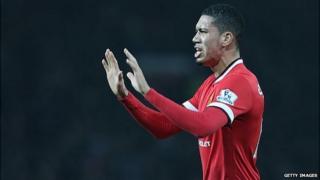 A hot tub sparked a blaze at the home of Manchester United footballer Chris Smalling.
An electrical fault is thought to have caused the fire, which started in the back garden of the Premier League star's home in Bowdon, Altrincham.
Police reported the fire after spotting smoke rising above the millionaires' row property, Greater Manchester Fire and Rescue Service said.
It is understood the England defender was not at home at the time.
The fire was "quite large" and "could easily have become something more serious", watch manager Stuart France, of Altrincham Fire Station, said.
"The police officers who were at the scene used a garden hose on the fire and when we arrived we extinguished it using a hose reel," he said.
"The most likely cause was an accidental electrical fault."
Hours earlier, the 25-year-old ex-Fulham star posted a photograph on his Instagram account which appeared to show a game of poker.
He wrote the caption: "Lads Night! #pokernight #championsleague"