Hyde 'child abduction' was a false alarm, say police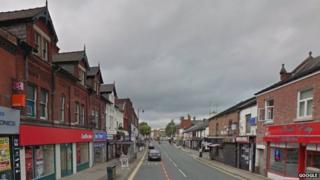 A man who was arrested on suspicion of abducting a two-year-old girl in Greater Manchester has been released without charge, police have said.
Officers said it became clear to them that "no offence" had taken place and that the incident in Market Street on Monday was simply a "misunderstanding".
A mother had reported that a man had snatched her daughter before she chased him and wrestled her daughter back.
Police said no further action would be taken against the 36-year-old man.
'False alarm'
Det Ch Insp John Mazzolai said: "We appreciate that the public are understandably concerned about this case, but we would like to reassure people that this incident has stemmed from a misunderstanding between the mother and the man in question.
"It has become apparent that this man had no intent to abduct the little girl and was in fact attempting to return the girl to her mother.
"We will always encourage the public to remain vigilant and report such incidents to us, but in circumstances such as this it is also right that we inform the public when incidents turn out to be false alarms."