Hamid Zaman: Tasered rapist from Manchester jailed for 12 years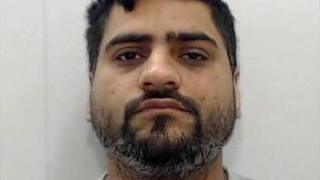 A rapist who was Tasered by police as he attacked his victim with a brick and a glass bottle has been jailed.
Hamid Zaman sexually assaulted the 33-year-old woman in New Moston, Manchester, before striking her repeatedly on the head.
Officers arrived during the attack and restrained him using a Taser, police said.
Zaman, 34 and of Dickenson Road, Manchester, was jailed for 12 years after a Manchester Crown Court trial.
He was found guilty of two counts of rape and one of assault.
After sentencing, Det Con Carol Finch said: "This was a brutal and sustained attack in which Zaman used a glass bottle as a weapon.
"She has had to relive her ordeal in court and I must credit her for standing up to Zaman and helping ensure justice has been done."