Ebola claim halts fire hazard shisha cafe sentencing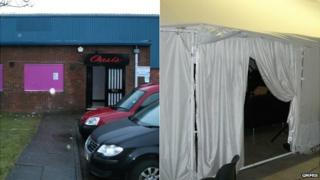 The sentencing of six people who ran a shisha bar that broke fire safety regulations has been postponed after claims a defendant has caught Ebola.
Wali Yaqub failed to turn up to court, but a hospital letter was sent saying he was seriously ill in Pakistan.
Oasis Lounge, on Great Jackson Street, Hulme, Manchester, had a flammable fabric marquee. Fire officers said it put "hundreds of people" at risk.
The Manchester Crown Court hearing has been adjourned until 23 June.
The letter, shown to the court, said the 35-year-old from Burnage was "critical" and was not allowed contact "with anyone".
The jury was told the authenticity of the letter was being assessed.
BBC News has been told there has not been a confirmed case of Ebola in Pakistan.
Prohibition notice
A Ministry of Justice spokesman said: "We have briefed court and probation staff in Manchester about the case of Mr Yaqub.
"Pakistan is not an Ebola affected country. We have no reason to believe that there is any risk to their welfare.
"We are also in the process of checking whether the letter provided to the court is genuine."
In the event of a blaze, the Oasis Lounge's only fire exit was blocked by barrels of red diesel, Greater Manchester Fire & Rescue Service (GMFRS) said.
The trial heard GMFRS placed a prohibition notice on the building, but the notice was torn down and the club continued to trade for more than a month.
Three people were convicted at a trial in March, with three others earlier admitting breaching fire safety laws.