Fugitive Raymond Nevitt on run for £3.25m fraud arrested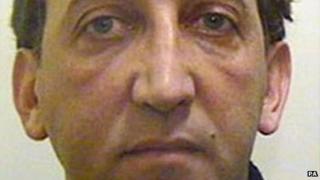 A fugitive who funded a playboy lifestyle and love of fast cars with a £3.25m fraud has been arrested in South Africa after nine years on the run.
Raymond Nevitt, 51, of Manchester, was convicted and sentenced to three years and nine months in his absence in 2008 for fraudulent trading.
The Serious Fraud Office (SFO) said Nevitt was being extradited back to the UK after his arrest in Cape Town.
He absconded in 2006 following a conviction for defrauding the taxpayer.
'Brash and forceful'
The SFO said Nevitt was arrested by the South African Police Service after hiding there for five years. He is expected to be extradited to the UK to serve his sentence.
The former director of three Trafford Park-based computer parts companies was first convicted of defrauding the taxpayer in 2006.
He was released on bail by a judge before being sentenced.
In 2008, he was described as a "slick, brash and forceful" man during an 11-trial at Manchester Crown Court for five charges of fraudulent trading.
The court heard Nevitt used money from his firm to pay for exotic trips to places like Las Vegas, Monaco, Verbier and Singapore and a number of company cars for himself, including a Ferrari.
The SFO said he crashed and wrote off the Ferrari after he drove it in the Gumball Rally alongside celebrities such as Damon Hill and Vic Reeves.
As his companies were going under Nevitt forged paperwork so businesses would lend him money on the strength of bogus orders.
IBM Global Financing lost £1,600,000 and Barclays Sales Finance lost £654,857. Other creditors lost about £1,000,000, the court was told.