Salford online dating fraudster Aaron Seddon jailed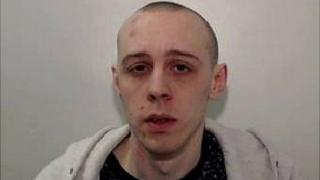 A man who swindled thousands of pounds from women he met on online dating sites has been jailed after spending a year on the run from police.
Aaron Seddon, 26, of Salford, Greater Manchester, used his victims' details to apply for pay day loans.
Seddon was arrested after threatening a woman who refused to give him £3,000, but managed to elude police for 12 months after being released on bail.
A judge at Manchester Crown Court jailed him for three years nine months.
The court heard Seddon was charged after police asked him to spell the word "hundred".
He misspelt it as "hundread" - the same spelling he used in the threatening messages to his victim.
Seddon pleaded guilty at an earlier hearing to five counts of fraud by false representation and one of blackmail.
'Threats of violence'
Greater Manchester Police said he targeted several women between 2011 and 2012, after meeting them online.
In 2011, he began a relationship with a 28-year-old who agreed to arrange several pay day loans for Seddon, totalling £3,000.
They later separated and he offered to pay back the money, but instead arranged for several pay day loans to be paid into her account from other unsuspecting victims, police said.
The woman also discovered Seddon had used her account to purchase an iPhone for £499.
In 2012, Seddon began a relationship with a 36-year-old woman and the pair arranged a holiday in Florida, with Seddon claiming he needed £800 to be transferred into an account.
He then said he needed an extra £3,000 and when the woman refused to pay, he sent text messages with threats of violence towards herself and her family.
After going on the run, Seddon was eventually rearrested as he tried to climb out of a bathroom window at an address in Salford.