Oldham Council candidate Amjad Iqbal claims vote theft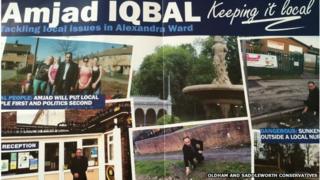 A candidate in the recent council elections in Oldham has claimed his vote was stolen by an imposter.
Conservative Raja Amjad Iqbal, who fought Alexandra Ward in Oldham, claims he was turned away from the polling station because somebody voted as him.
Mr Iqbal's agent Lewis Quinn said the party was "disgusted and angry".
Greater Manchester Police (GMP) said it is investigating an allegation of voter fraud and appealed for anyone with information to get in touch.
Mr Iqbal said after campaigning all day he went to the polling station on Honeywell Lane around 21:45 BST on election day to be told his vote had already been cast.
'Tainted poll'
His agent Mr Quigg said: "We're disgusted as well as angry that this has happened that somebody has been denied the vote not only for themselves but also for another election as well.
"As far as we're concerned it taints the election. We can't be sure this hasn't happened to anyone else.
"Quite frankly, we're not very happy about it."
Mr Iqbal came second with 798 votes to Labour's Jenny Harrison who won with a 1,101 majority.
An Oldham Council spokesman said: "We can confirm we've received an allegation of [personation] and reported it on to Greater Manchester Police."
A GMP statement said: "On 19 May 2015, Greater Manchester Police received a report of voting fraud that is alleged to have taken place in the Alexandra Ward of Oldham during the General Election on 7 May 2015.
"An investigation has now been launched and inquiries are ongoing."