National Graphene centre money 'put in building not science'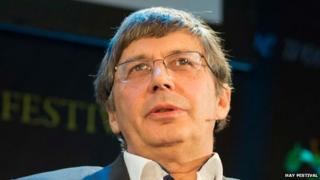 One of the scientists who discovered Graphene has said £61m spent on the National Graphene Institute [NGI] was money invested "in the building industry rather than science".
The centre opened in Manchester in March and took five years to build.
Sir Andre Geim, who won a Nobel Prize for his research on the ultra-thin form of carbon, said money had been invested in the building and nothing on staff.
He said other countries have made great strides with the "wonder material".
'Quality not quantity'
Sir Andre told the Hay Festival in Wales: "[The NGI] is a good facility but you shouldn't exaggerate it - it is money put in the British building industry rather than science."
He said during the time it has taken to build "other countries have progressed" with exploring Graphene's potential.
The UK currently has more than 60 patents for Graphene while China has more than 10,000 and the US has in excess of 4,500.
However, the institute said it "leads the way in terms of graphene research".
The NGI said it was not just about numbers but innovation and it has created a Graphene light bulb which has a longer lifetime and will use less energy than any other light bulb on the market.
It has also created a graphene brick impenetrable by water and a bendy touch screen for mobile phones.
James Baker, Graphene business director said the university has more than 225 researchers and is developing commercialisation strategies with more than 35 industrial partners on graphene applications.
"It is important is to file patents which have the potential to form the basis of valuable commercial products - it's quality not quantity."
Graphene was first isolated by Sir Kostya and Sir Andre Geim in Manchester in 2004.
The pair were awarded the Nobel Prize for Physics for their pioneering work on the material in 2010.
What is graphene?
It is a form of carbon that exists as a sheet, one atom thick
Atoms are arranged into a two-dimensional honeycomb structure
Identification of Graphene announced in October 2004
About 100 times stronger than steel and conducts electricity better than copper
About 1% of graphene mixed into plastics could turn them into electrical conductors