Curfew for halal chicken offensive sticker protester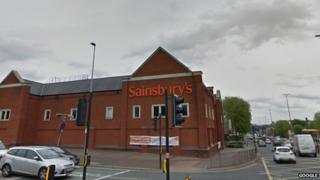 A man who attached offensive stickers to halal chicken in a supermarket has been given a four-week curfew.
Liam Edwards, 29, admitted racially aggravated criminal damage.
The van driver placed stickers on chickens at a Sainsbury's store in Salford which read: "Beware halal is barbaric and funds terrorism".
He insisted his protest was against the halal slaughter of animals rather than being racially prejudiced, Manchester and Salford Magistrates' Court heard.
Edwards, from Salford, was filmed on CCTV cameras at the supermarket on Regent Road on 20 February with his girlfriend and two young children.
Staff became aware of the stickers on packs of chicken, worth £16.50, which could no longer be sold due to contamination concerns.
Prosecutor Lisa Connor said Edwards had apologised to officers.
Lee Hammond, in mitigation, said that after watching a documentary on how livestock were dealt with in slaughterhouses Mr Edwards had taken to Twitter.
In passing sentence of a four-week curfew to run between 2100 and 0700 BST, magistrate Vanessa Goldstone said it had not been "a run-of-the-mill case".
He was also ordered to pay £100 prosecution costs, a £60 surcharge and £16.50 compensation.