Star set for Corrie return after revealing 'hope' in depression battle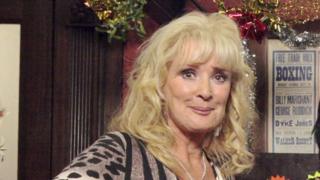 Coronation Street actress Beverley Callard is set to return to the ITV soap next month after revealing she had "hope" in her battle with depression.
The soap star earlier tweeted that the medication she was taking had stopped being manufactured.
A show source then confirmed that she would be "taking time off" from her role as Liz McDonald in the long-running ITV drama.
An ITV spokesperson said Ms Callard was set to return to work in May.
'Battling the demons'
The actress confirmed to a fan on Twitter the latest update in her health battle.
She said that her medication had been pulled from production as it yielded "no profit", and added: "Saw a new Doctor today. Got hope! X".
Callard, 59, also told her followers: "Had a good day today, things are on the up! Thank you for being there!!!!! X"
She had tweeted earlier that she had "been battling the demons of depression" and thanked fans and fellow stars for their support.
The actress has been open about her struggles with mental health and in an interview with broadcaster Piers Morgan in 2014, said she had tried to take her life "maybe half a dozen times".
She said: "It wasn't a cry for help at all. I'd known for quite a while that I wasn't myself, but I didn't really know what to do about it."
---
Depression
It is estimated one in six people will experience depression at some point
The condition affects everyone differently, but common symptoms include feeling irritable, numb and disconnected from other people, losing interest in sex and gaining no pleasure from things usually enjoyed
Antidepressants can be effective for some people, while others may find treatments such as counselling and cognitive behavioural therapy are more appropriate
Stephen Buckley, head of information for Mind, says it is important for people with depression to visit their GP, who can talk about available support
Source: Mind
---