Manchester trainers shopper trusts 'helpful strangers'... and loses £260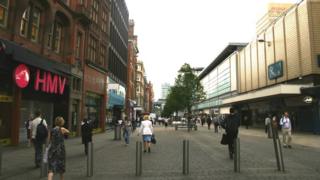 A shopper who tried to bypass a store's one per customer policy gave his money to two "kind strangers" who fled with the cash, police have said.
The man had hoped to purchase some limited-edition trainers - so asked two men to buy them on his behalf.
Greater Manchester Police said he was "briefly distracted" after handing over £260, and the pair left the shop.
"To make things worse", they said, "the victim was apparently a day early", and the Adidas shoes were not yet on sale.
Police said the theft of the 34-year-old's money took place in Market Street, Manchester.
The force tweeted: "Regardless of victim's actions, we're doing CCTV work to track down the thief."