Manchester trainer shopper scam thief hands himself in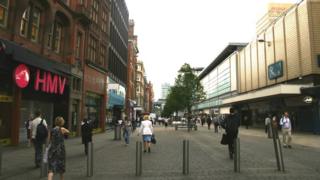 A teenager who ran away with cash given to him by a trusting shopper has handed himself in to police.
Trying to bypass a store's rules preventing anybody buying more than one pair of limited-edition trainers, the shopper asked two strangers for help.
He gave them £260 but, after becoming briefly distracted, discovered that the pair had vanished with the money from the shop in Market Street, Manchester.
Police said a 17-year-old boy had been in touch, wanting to repay his victim.
Greater Manchester Police's city centre team tweeted: "Update on £260 trainer money thief. After seeing MEN [Manchester Evening News] article, 17 yr old handed himself in + promises to return money."
Officers are still trying to find the other suspected thief.
The 34-year-old victim's problems were compounded by the fact he had gone to the shop "apparently a day early" for the release of the new Adidas trainers.