Horse rescued after falling in hole on Wigan farm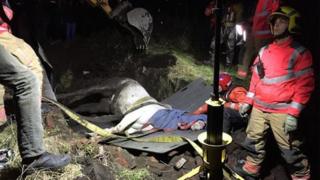 A horse trapped in a hole survived "one of the most difficult animal rescues", firefighters have said.
Grey mare Ziona had stepped on to corrugated metal sheets which "wrapped around her" when she fell.
A vet was called to sedate her during the two-hour rescue on a farm near Wigan, Greater Manchester.
Ben Levy, of Greater Manchester Fire and Rescue Service, said: "This was one of the most difficult animal rescues I have experienced.
"The farmer used a digger to make room for us to access the horse and after two hours we were able to free her.
"At one point the vet was very concerned about Ziona's wellbeing, yet she pulled through and survived."
Ziona suffered cuts and bruises.
Firefighters used straps, sliding boards and lighting equipment to rescue her.