Missing three-legged cat found 45 miles from home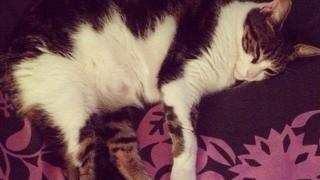 A three-legged cat missing for five weeks has been reunited with her owners after being found 45 miles from home.
Brandy, an 11-year-old tabby whose leg was amputated when she was two, snuck out of her home in Macclesfield.
She was traced via a microchip after being found underweight on an industrial estate in Liverpool with scratches to her body.
Her owner Tracy Lake said she was "ecstatic" when she picked up a message from the RSPCA that she had been found.
Mrs Lake said her daughter had put an appeal on Facebook, but they had no luck in finding her.
'Sorry mess'
She said: "I was sure that we would never see her again. I didn't believe at first that she had been found alive 45 miles away."
Brandy was "in a sorry mess and was looking very thin with scratches on her, but she was so happy to see us and we were over the moon to be reunited with her," she added.
"She has had quite an adventure. We can only assume that she jumped in a van and travelled to Liverpool."
Derek Hampson, an RSCPA animal collection officer, who picked up Brandy from Liverpool, said: "What happened to Brandy just goes to show how important microchipping your pet is as you have far greater chances of being reunited if it gets lost or stolen."