Cromwell High School: Boys torched school with takeaway box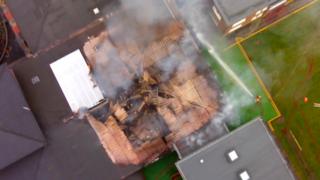 Three boys who torched a school for children who have learning difficulties after setting a takeaway box alight caused "massive" damage to the pupils' education.
Tameside Youth Court heard Cromwell High School in Dukinfield will not reopen until the end of the year.
The court was told the boys walked into the school and started a fire, while the caretaker was still inside.
A 14-year-old boy and two 15-year-olds will be sentenced on 20 May.
The bench heard the three boys entered through an insecure door and one was seen lighting a polystyrene takeaway container which he put on the rope of a climbing frame on an outdoor play area.
A second boy lit the container's other side while a third boy threw a lighter into the fire - the boys watched the fire, which spread to a classroom, and then walked away.
'Too lazy'
One of the boys admitted he was "too lazy" to put the fire out and they left because it started to rain.
Another of the boys uploaded a picture of the smoke on to the social media website Facebook.
A victim impact statement from headteacher Andrew Foord said the fire had a massive impact on teachers, children and families.
The school will not reopen until the end of 2016 and the temporary arrangements for teaching are "massively challenging" to the children whose education is being "damaged".
The solicitor for one of the 15-year-olds said he was in care since he was five and had admitted the offence at the earliest opportunity.
The court was told the other boys, who had also been in care for many years, made similar swift admissions of guilt and expressed remorse.