Denton primary school closed over safety concerns reopens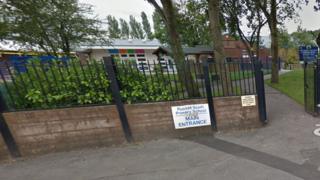 A Greater Manchester primary school that was closed over "serious safety concerns" has reopened after 24 hours.
Russell Scott Primary in Denton, Tameside was shut by the head teacher because of "significant defects" with the building which meant it "did not comply with fire regulations".
But, Tameside Council said it was "surprised" by the closure and instructed a fire inspection.
Head teacher Steve Marsland said the inspection had now found it was "safe".
'Never compromised'
In a statement on the school's website, he said governors had been given "categorical assurance" from Greater Manchester Fire and Rescue Service "the school was, and continues to remain safe, and that the health and safety of any pupil or visitors to the site was never compromised."
He apologised for any inconvenience caused and said: "Building works are still progressing... including playing fields and outstanding snagging issues, to a successful conclusion in the best interests of the children."
Mr Marsland had said the school had taken advice from architects and mechanical and electrical specialists before making the decision on Tuesday evening to close, to enable work to "redress outstanding" and urgent "defects".
One parent claimed pupils had missed 17 days in the past three years because of problems with new building work and refurbishment.
'Insured to operate'
Clare Dawson said issues included a "suspected methane gas leak, raw sewage in classrooms and an uneven playground".
However, in a joint statement released on Wednesday, Tameside Council and contractors Carillion plc said the school has "the necessary fire, building control and other certificates required by law and is insured to operate".
It said neither the head teacher nor the governors had discussed the decision with them.
"Under no circumstances would we place pupils and staff in an unsafe environment," the statement said.