Greater Manchester bus drivers staging one-day strike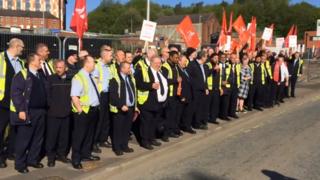 Hundreds of bus drivers in parts of Greater Manchester are staging a one-day strike over pay and conditions.
Members of the Unite union working for First Manchester Ltd have walked out, claiming "serious breaches" of long-standing industrial agreements.
First Manchester said the strike action was "unnecessary and unjustified".
Transport for Greater Manchester (TfGM) said the Metroshuttle free buses in Manchester were among the services cancelled.
Talks broke down on Monday leaving 65 routes hit by Unite's action, which has about 700 members working for the company.
The areas affected are in Oldham, Salford, Rochdale, Trafford and parts of north Manchester.
Last dispute
Neil Clarke from Unite said: "The staff didn't take this action lightly, it is nearly two decades since their last dispute."
He claimed the company had reneged on long-standing agreements.
The focus of the action is First Manchester depots in Queens Road, Manchester and Oldham. Drivers at its Bolton, Bury, Rusholme and Tameside depots are believed to be working normally.
A spokesman for the bus operator said: "Unite have said that the reason for the strike revolves around a trade dispute regarding changes to conditions and agreements and bargaining procedures, which First Manchester deny.
"First Manchester is still seeking clarification around the specific issues of the dispute and what resolution Unite require to bring the dispute to an end."
A handful of drivers at the affected depots are not on strike, he added.