Passport image 'made man look like Adolf Hitler'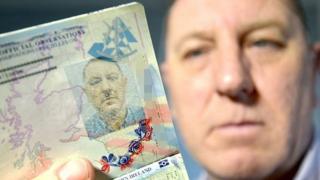 A man has said he was "completely horrified" to find his new passport made him look like Adolf Hitler.
Stuart Boyd, from Salford, found his picture resembled the Nazi leader after renewing his passport ahead of a holiday in July to celebrate his 50th birthday.
"I posted [about] it on Facebook and it just went crazy really with friends taking the mickey."
The Passport Office said it would replace the document "free of charge".
Mr Boyd said: "One of the managers said she didn't know how it had happened but she was very apologetic and obviously asked me to return the offending passport.
"I've just this morning posted it back to get a new one."
A spokeswoman for the Passport Office said: "All UK passports are carefully created and checked to exacting standards before they are issued.
"However, in this instance Mr Boyd's passport will be replaced free of charge."
In 2011, an image of a Swansea house that resembled Hitler went viral.