Ecstasy girl, 12, set to leave hospital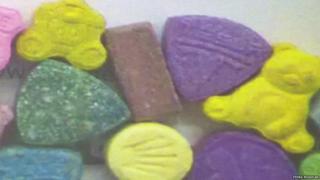 One of the three 12-year-old girls taken ill after taking ecstasy tablets in Greater Manchester is due to be released from hospital later.
Officers went to Salford Precinct on Saturday after reports a girl was overdosing and later found her friends.
The two other girls remain in hospital in a stable condition, police said
A man and a woman, aged 22 and 21, who were arrested on suspicion of possessing a controlled substance, have been released on police bail.
Professor Fiona Measham, a member of the government's Advisory Council on the Misuse of Drugs (ACMD), is also a founder of Loop, an organisation which tests drugs found at festivals and nightclubs.
She said she was concerned about the variations in strength of ecstasy in circulation at the recent Parklife festival in Manchester.
Prof Measham said Loop tested 30 different types of tablets - one of which contained approximately 20mg of MDMA per pill, to two others which both had more than 200mg.
She said that because "pills can vary by up to 10 times in strength... it's a bit like buying alcohol [and not knowing] if it is a litre of bitter shandy or pure whisky".
"We have seen a number of young women fall ill and there seems to be a link with younger users, gender, lower body mass index, and reduced tolerance to the drug due to inexperience," she explained.
How does ecstasy affect your body?
Michelle Roberts, BBC News online health editor
Ecstasy, or MDMA, is an illegal synthetic drug that people take to feel energised and euphoric.
The effects usually kick in after about half an hour and take a few hours to wear off.
A big problem with ecstasy is that the tablets are rarely pure - they can be cut with other substances and cause nasty side effects.
If a child takes ecstasy they will be getting a large dose relative to the size of their body, which is more risky.
Ecstasy affects how well the body is able to regulate temperature and this increases the risk of over-heating and dehydration.
Anyone with a heart condition, epilepsy or asthma can have a very dangerous reaction to the drug.
There are have been numerous deaths involving ecstasy.
However, Prof Measham said the pills taken in Salford were not necessarily from the same batches tested a week ago.
Greater Manchester Police is investigating how the 12-year-old girls got hold of the tablets.
Last month, a 17-year-old girl died in Greater Manchester after suffering an adverse reaction to ecstasy.