Manchester approves slim bin plan to boost recycling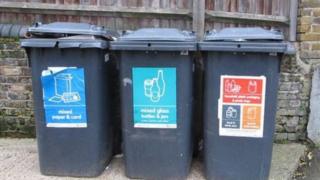 Waste bins are to be slimmed down in a bid to boost recycling in Manchester, the city council has agreed.
The authority aims to save £2.4m per year as a result of bringing in "slim bins" which hold 40% less waste.
The plans, agreed by the council's executive committee, will see the capacity of general waste bins reduced from 240 to 140 litres.
The rollout of the smaller, grey bins will begin in August and is due to be completed by the end of October.
Councillor Nigel Murphy said it was "vitally important" to take action to boost the city's recycling rates.
He said the savings "will help us to protect other council services that residents care about, such as road maintenance, leisure centres and play facilities for children".
Manchester's recycling rate of 33% is the lowest of Greater Manchester Waste Disposal Authority's nine boroughs. Neighbouring Trafford recycles 62% of its waste.
All of the nine boroughs in Greater Manchester have either switched to smaller bins or less frequent collections.
Manchester's new grey bins will continue to be collected fortnightly.