Men held after police chase ends at Salford Crescent station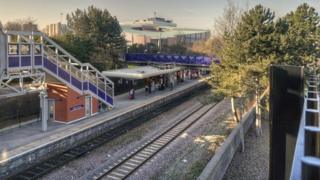 Four men have been arrested after a police pursuit ended with a driver and passengers abandoning a car and running on to train tracks in Salford.
Police were told an Audi's number plates were changed in Burnage, Manchester, and it had been involved in criminal activity just after 11:00 BST.
Police tried to stop the car before the chase ended at Salford Crescent railway station, causing 30 minute delays.
The driver was held on violent offences and the others for theft of a vehicle.
All remain in custody for questioning.
Ch Insp Mark Dexter said: "Despite the offenders making a very determined effort to escape, only one police vehicle suffered minor damage whilst blocking the Audi in to bring the pursuit to a conclusion."
Trains travelling to and from Manchester were delayed before normal service resumed at about 12:40.