'Drunk' mother arrested after trying to put daughter, 4, on bus alone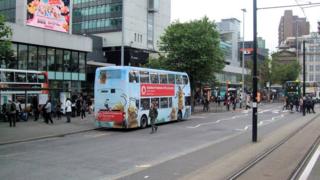 A woman who was "swigging" from a brandy bottle while trying to put her four-year-old child on a bus alone has been arrested, police have said.
Greater Manchester Police (GMP) went to reports of a "drunk" woman falling into the road near Piccadilly Gardens at about 22:00 on Wednesday.
Officers were told a woman had attempted to put a young girl on a bus.
A 23-year-old woman was later arrested for being drunk in charge of a child.
GMP City Centre tweeted: "Extremely drunk Mum, apparently swigging from brandy bottle, trying to put 4 yr old on her own onto bus Piccadilly Gardens 10pm was arrested."
A GMP spokesman said the child was safe and well and now with a responsible family member.
He added that the woman remained in custody and discussions were taking place with Children's Services about the circumstances of the arrest.