'Prolific' Manchester spice drug dealer Anthony Hunt jailed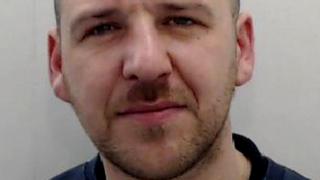 A "prolific" drug dealer was jailed for a string of offences after one of Greater Manchester Police's largest seizures of the drug spice.
Anthony Hunt, 32, from Manchester was jailed at Manchester Crown Court for seven years and nine months after admitting seven offences.
Detectives said Hunt was "prolific" in distributing spice.
His associate John O'Brien, 32, received a 12-month community order for supplying heroin and cocaine.
Greater Manchester Police (GMP) said Hunt's activities were discovered when police found drugs and mobile phones in a Ford Transit van abandoned after a crash near Junction 12 on the M6 on 26 November.
Hunt and O'Brien's fingerprints were found in the van and O'Brien, of Bluestone Road, Manchester, was arrested by officers the next day who found £7,500 worth of heroin and cocaine and a "substantial" amount of cash.
When officers raided Hunt's home on Rudston Avenue, Moston, in February they found spice with a street value of £46,200, amphetamine worth £8,000 and cannabis valued at £2,500.
Hunt admitted supplying amphetamine, cannabis, cocaine, heroin, spice, money laundering and perverting the course of justice while O'Brien admitted supplying cocaine and heroin.
Sgt Ian Haselden, of GMP's City of Manchester team, said: "This was one of the most significant seizures of spice we have ever had in Greater Manchester which clearly indicates that Anthony Hunt was prolific in his distribution of it.
"There has been a lot of coverage in recent months about spice and the effects that it can have on people and I hope this investigation will go some way to showing how serious we are in our efforts to remove as much of it from the streets as possible."