Ian Brady: Moors Murderer 'would remove feeding tube'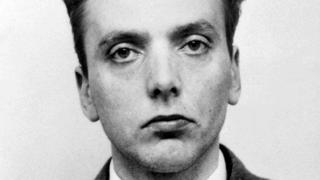 Moors Murderer Ian Brady would remove his own feeding tube while he was on hunger strike, an inquest heard.
Dr Noir Thomas, consultant forensic psychiatrist for Mersey Care, told a hearing at Bootle Town Hall this act was a "symbol of his need to control".
Brady, 79, who tortured and killed five children with Myra Hindley, died at Ashworth Hospital on 15 May.
He died of natural causes unaffected by the hunger strikes, senior coroner Christopher Sumner ruled.
Neglect or self neglect did not contribute to his death, Mr Sumner added.
No plans for his burial were revealed at the inquest, although Dr Thomas told the hearing that in the final hours of his life Brady "declined chaplaincy".
The forensic psychiatrist also said Brady had asked for his lawyer Robin Makin, who did not attend the hearing, to be notified and locked briefcases he had in his room to be removed.
The cases were sealed by security staff and locked in an office.
There was no evidence heard about what was in them but the BBC understands they were examined by police before being passed to Mr Makin.
During his 32 years in detention, Brady had severe mental disorders and refused medication and therapy, the inquest heard.
Heart failure
Dr Thomas said the child killer's condition had deteriorated in February and then again, significantly, on 24 April.
He said Brady had then removed his own naso-gastric tube on 10 May and it had not been re-sited by staff.
On 14 May, he was assessed by a doctor and found to be nearing the end of his life.
Home Office pathologist Dr Brian Rodgers said Brady died from cor pulmonale, a form of heart failure, secondary to bronchopneumonia and chronic obstructive pulmonary disease, or lung disease.
Dr Rodgers said although Brady had been on hunger strike his body did not look emaciated and "he may well have been eating".
He was jailed in 1966 for the killing of John Kilbride, aged 12, Lesley Ann Downey, 10, and Edward Evans, 17.
In 1985, he also admitted to the murders of Pauline Reade, 16, and Keith Bennett, who was 12, although he was never prosecuted for their deaths.
Brady never revealed where Keith's remains were buried. The boy's mother Winnie Johnson, who died in 2012, had repeatedly pleaded for Brady to do so.
Keith's brother Alan runs a website, Searching for Keith, in an ongoing attempt to locate his body.
In May, Mr Sumner initially refused to release his body amid fears his ashes would be spread on Saddleworth Moor - where the remains of three of his victims were found.
Brady's body was then released on 18 May to his lawyer who said there was "no likelihood" of his ashes being scattered on the moor.
'Ace card'
John Kilbride's brother Terry said he would have "fought tooth and nail" to prevent that.
He believes Brady should be buried in the grounds of Ashworth Hospital.
"It's the best place for him."
Following the ruling, he said: "I have pulmonary disease and know how it affects me... so I imagine it would be a bad way to go. I hope he suffered."
Mr Kilbride said he was annoyed Brady died on John's birthday but said his death did not affect his family as "we're still affected... until the day we die".
He said: "I still have to live without a brother."
Chronic mental illness
However, he said unless Brady "left something... or said something to someone" it means the chances of finding the remains of Keith Bennett were slim.
"I felt for the Bennett family because it was the only hope they had... [Brady] had the ace card, didn't he?"
Born in Glasgow in 1938, Brady later moved to Manchester and died at Ashworth Hospital in Maghull, Merseyside, where he had been detained since 1985.
Brady campaigned for several years to be moved from Ashworth to a Scottish prison, where he would not be force-fed and would be allowed to die.
His request was rejected after Ashworth medical experts said he had chronic mental illness and needed continued care in hospital.