Broughton House in Salford in £12.5m redevelopment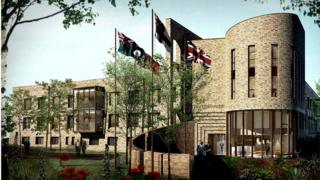 A care home for armed forces veterans is being expanded as part of a £12.5m redevelopment.
Broughton House in Salford, Greater Manchester, will be demolished and redeveloped in phases after the plan was approved by the city council.
The site, which is the only care home for former military personnel in the region, will include a nursing home, independent flats and a cenotaph.
Work is due to start early next year to finish by 2020.
Former merchant's villa
Ty Platten, chief executive of Broughton House, said: "The new development will deliver a state-of-the-art care village for the North West."
The plan includes a 64 bedroom nursing home, 34 independent flats, a gym, a cafe, a bandstand and bowling green.
About £3m will be raised from a grant out of the government's LIBOR fund, which redistributes banking fines.
Broughton House dates back to 1916 when Colonel Sir William Coates began an appeal to transform a former merchant's villa into a 50 bed home for those who had been wounded and maimed in World War One.
The first resident was Charlie Fox whose legs were shattered at Ypres in Belgium and arrived on a stretcher in May 1917.
He stayed at the home until his death in 1942.