Manchester Airport: Detectives sacked for skipping duties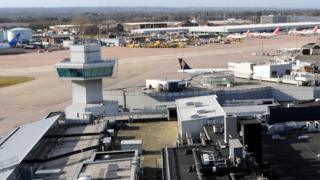 Two counter-terrorism detectives have been sacked for skipping duties during night shifts at Manchester Airport.
Constables Jason Coman and Jennifer Gold were supposed to be checking airline passenger lists and stopping any potential terror suspects.
But they were found to have spent "extended periods of time" in their office during four night shifts in July 2016.
They were dismissed for gross misconduct after an internal probe.
The pair are not believed to have been in a relationship.
The investigation found that the two North West Counter Terrorism Unit detectives lied in giving "inaccurate and misleading" information about not leaving their office.
'Totally unacceptable'
They appeared before a panel on December 18 last year and were dismissed for their behaviour.
A Greater Manchester Police (GMP) spokesperson said: "The panel was independently chaired and the chair ruled that the hearing would be held in private to prevent Counter Terrorism tactics being revealed.
"At the conclusion of the hearing, the panel found the officers had breached the standards of professional behaviour and that their actions amounted to gross misconduct.
"Both were dismissed from the force without notice.
"GMP considered the actions of the officers to be totally unacceptable which is why the force sought the highest sanction from the panel."