Search for missing Bury man after suspected assault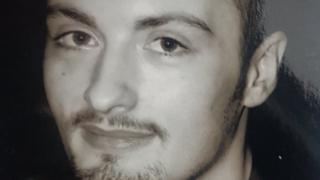 Hundreds of people have been searching for a 22-year-old man who has been missing following a suspected assault at a New Year's Eve party.
Steven Dyson was last seen leaving the party in St Andrew's Close, Ramsbottom, Bury, at 09:00 GMT on New Year's Day.
A social media campaign has been set up and mass searches of the local community have been organised with more than 200 people joining the latest one.
A 21-year-old man has been arrested on suspicion of assault.
'Unbelievable turnout'
Mr Dyson had gone to the party where police believe he was attacked.
His mother, Lorraine, called police after finding he had not returned home on New Year's Day.
Bury North MP James Frith said: "The searches have seen an unbelievable turnout. I'm a local resident and it doesn't surprise me.
"It was emotional seeing a mixture of people coming together."
Mr Dyson's aunt, Jackie Spencer, said: "The response has been amazing. People have been searching in all weather and right through the night.
"Steven is well known locally and is very well liked. This is totally out of character, he's a real home boy normally."
Det Ch Insp Charlotte Cadden said: "He may be in urgent need of medical attention, so the sooner we can find him, the better."