Altrincham girls' school's gender neutral policy criticised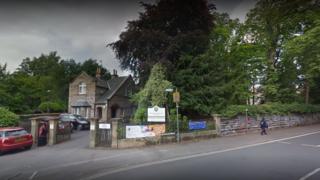 A transgender former student of a girls' school which has begun a gender-neutral policy said it does not go far enough and needs to change its name.
Altrincham Grammar School for Girls said the move, announced last month, was to help pupils with gender issues and "break ingrained habits".
However, it said there was no plan to drop the word "girls" from its name.
Seph, 22, said while there they kept their non-binary identity secret for fear of expulsion.
'Boat already sinking'
The school - rated as "outstanding" by Ofsted - said the policy followed training and understanding of challenges faced by students questioning their gender identity or those who do not identify as girls.
It said it was using gender-neutral language in communication with students and parents and was seeking to stop calling pupils "girls".
"We know for many transgender students that being misgendered can be very hurtful and [we are] conscious of figures recently published by Stonewall that more than four in five trans young people have self-harmed and more than two in five have attempted to take their own life."
It added it was important students "feel comfortable and... bring their true self to their learning environment".
Seph, who does not want to use their full name, welcomed the policy but it should do more, such as drop the use of "girls" in its name.
The 22-year-old said: "I appreciate they are doing something, but still being officially called Altrincham Grammar School for Girls is a bit like putting Blu Tack on the boat after it is already sinking."
Seph said they never told teachers they were a non-binary person - someone who is not male or female - and was "frightened of even exploring my gender" while at the school.
"I had to fight to get in the school," said Seph, from Wythenshawe but now living in Lancashire.
"After passing an exam, I had to appeal to get in, because I lived in a different authority, so that added extra pressure, as there were no other schools of its academic calibre."
Seph, who wants to be a teacher, achieved 7 A* GCSEs at the school but went to a non-gendered college instead of staying at its sixth form.
Lesbian, gay, bisexual and transgender charity Stonewall welcomed the school's policy for showing it "wants to create a school where all pupils feel accepted, included and recognised".