Jury criticises 'transphobic' killer's mental health care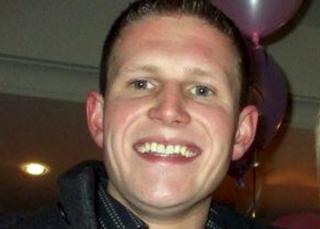 The mother of the victim of "transphobic" murder has said his killer was let down by the system.
William Lound, 30, was stabbed to death by 38-year-old Lee Arnold, who had been treated for paranoid schizophrenia.
An inquest in Bolton criticised the "fragmented" care Arnold received while living in the community and concluded a verdict of unlawful killing.
Arnold was jailed for life in 2016 for the "transphobic and homophobic murder".
Mr Lound suffered multiple stab injuries at his Salford hall of residence.
Arnold, who had a history of criminal convictions and mental illness, was in breach of his bail conditions when he killed Mr Lound, the inquest jury heard.
He was diagnosed with paranoid schizophrenia when detained in high and medium security hospitals between 2007 and 2013, where a consultant psychiatrist deemed him to be a "substantially dangerous man" who was likely to pose a "significant risk to members of the public" if released.
In 2015, he had told doctors he had been hearing voices telling him to kill people and had considered hitting a shopkeeper over the head with a bottle of wine.
The jury said medical professionals did not have "sufficient information" to consider Arnold's treatment and the risks he posed both to himself and others.
Speaking after the inquest, Mr Lound's mother, Maureen, said she bore Arnold no malice and vowed to campaign for better mental health provision.
"There are people with mental illness who can't cope in the outside world," she said.
"They've been institutionalised and their lifestyle isn't conducive to life in the community.
"The system is at fault because mental illness is increasing in our society because of the pressures of modern life."
Bev Humphrey, chief executive of Greater Manchester Mental Health NHS Foundation Trust said: "There has been a great deal of soul searching over this incident and the flaws identified around fragmentation of care and information flows are totally accepted by the trust.
"We are working hard to implement all the changes we can to limit the possibility of this set of circumstances ever happening again."