Pennine Acute Hospitals NHS Trust makes 'real improvement'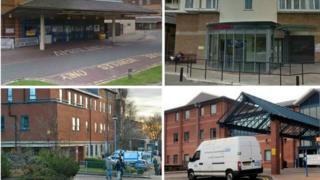 An NHS trust rated inadequate has made significant improvements, but must be better, the health watchdog has said.
Pennine Acute Hospitals NHS Trust pledged to invest £30m in frontline services after a Care Quality Commission (CQC) inspection in 2016.
The trust runs the Royal Oldham, Fairfield General, Rochdale Infirmary and North Manchester General.
Following 2017 inspections, the CQC said there had been "real improvement in care" but more need to be done.
The watchdog made unannounced inspections at the hospitals in October and November and said overall, the rating of the trust had improved, from inadequate to requires improvement.
Inspectors said services at North Manchester General and the Royal Oldham still needed to improve further, but Bury's Fairfield Hospital was rated as good.
Rochdale Infirmary was not inspected as it was rated as good after the 2016 inspection.
'Phenomenal turnaround'
The CQC said the trust controlled infection risk well and staff kept themselves, equipment and the premises clean.
However inspectors found that while staffing levels had improved, the trust still did not have enough staff of the right qualifications, skills, and training.
The watchdog's Ellen Armistead said there had been "real improvement in care" and inspectors "found a supportive and open culture that was focused on learning and improvement".
"A comprehensive plan to deal with the challenges... has been put in place and it is clear these arrangements have had a positive effect," she said.
"There had been major changes to the leadership and management [but] there is still scope for improvement in the day-to-day delivery of services."
Sir David Dalton, the chief executive of the group which runs the trust, said there was "more to improve, but we are now able to demonstrate that most of the aspects of services - 70% of them - have been rated good or outstanding".
"That's a phenomenal turnaround and a great credit to our staff," he added.