Salford aircraft crash pilot to face no licence charge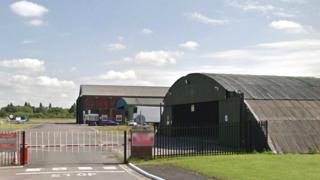 A pilot of a light aircraft which crashed shortly after take-off summonsed to court to face a charge of flying without a licence.
Robert Gregor Murgatroyd, 51, of Windy Harbour, Poulton-le-Fylde, Lancashire, will appear before Manchester and Salford Magistrates on 28 March.
Four people were on the plane which was flying from City Airport in Barton, near Manchester, on 9 September 2017.
Three walked away with minor injuries while the other suffered a head wound.
Greater Manchester Police said Mr Murgatroyd would also face charges of endangering the safety of an aircraft, endangering the safety of persons or property, failing to discharge responsibilities as pilot in command and failing to carry documents on a flight.
He will also answer charges of illegal public transport, flying otherwise than in accordance with the conditions or limitations contained in the aircraft flight manual and flying without insurance.
In addition, Mr Murgatroyd is accused of two counts of fraud between June 2016 and April 2017.