Father calls for safety railings after Manchester canal death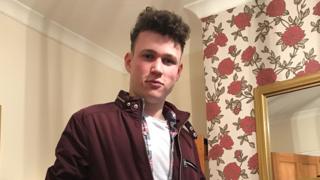 The father of a student who was found dead in a Manchester canal has called for safety railings to be built alongside waterways in the city.
Charlie Pope's body was found after an underwater search of the Rochdale Canal in Manchester city centre on 1 March.
The 19-year-old, of Ponteland in Northumberland, had left the Zombie Shack on New Wakefield Street at 02:30.
His father Nick Pope has backed a petition calling for railings which has so far been signed by 15,000 people.
Charlie, a Manchester University social sciences student who was living in West Didsbury, went missing after becoming separated from friends.
His father told BBC Radio Manchester: "We are not going to stop - we don't want anyone to go through we have been through."
Police took Mr Pope to the spot where Charlie's body had been found.
"It was icy and there were no barriers. I was astonished how dangerous it was," he said.
"I had no idea - people are stumbling out of bars and falling into canals. We could put up barriers in key areas where all the bars are."
He added: "If this was a company the Health and Safety Executive would have shut it years ago."
Manchester city councillor Pat Karney said the whole canal network could not be fenced off but certain measures could be introduced.
He said: "We have done it at the top of the village area as we had a particular problem and so far it has stopped fatalities up there.
"But I will look at the petition and talk to them and see what measures we can come up with."