Council backs Gary Neville and Ryan Giggs' £200m scheme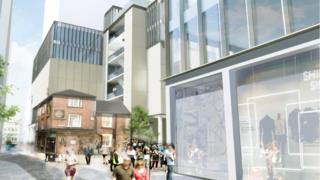 Plans by ex-Manchester United stars Gary Neville and Ryan Giggs for a £200m development in the centre of Manchester have been narrowly approved.
The St Michael's scheme centres around a 40-storey tower on Jackson's Row and also includes a five-star hotel and apartments.
While a majority of Manchester City councillors backed the scheme, one said it was an "eyesore".
Final approval depends on whether the government calls in the decision.
Gary Neville said he was "delighted" and is hopeful of government support for the scheme.
Six Manchester City councillors voted in favour of the amended plan, while three voted against and one abstained.
Cllr Joan Davies acknowledged there are "considerable" public benefits but said they are "possibly" overstated.
Cllr Hugh Barrett said he didn't think it was a suitable development for the area.
"It will harm the presentation of our city in the future. It is not what we require, it is too big and it must be reduced in size," he said.
And Cllr Basil Curley said the 170m (550ft) tower was "inappropriate for this particular site."
'Significant harm'
The original scheme - which included two skyscrapers - was revised after concerns were raised by conservation groups including Historic England who said it would "erase the area's history".
The Sir Ralph Abercromby pub will be retained along with the the former Bootle Street police station frontage.
Planning officers had recommended the council be minded to approve the scheme despite significant concerns.
In a report, they said the development would be "harmful to the historic environment", but the scheme's benefits "would outweigh the significant harm that would occur".
John Cooper of Deloitte, who spoke for the developer at the meeting, said it is "accepted" the proposals will result in a degree of harm to the area's heritage.
Final approval is subject to a response from Housing, Communities and Local Government Secretary Sajid Javid.