Woman, 101, given Manchester University degree certificate after 80-year wait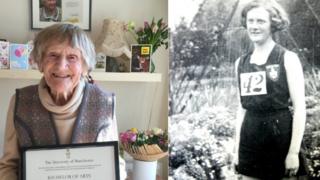 A graduate who completed her studies 80 years ago has finally been presented with her degree certificate - on her 101st birthday.
Catherine Palmer, from Southport, Merseyside achieved a first class degree in English in 1938.
But for reasons unknown she did not receive a certificate when she attended her graduation ceremony at the Victoria University of Manchester.
She finally received it as a surprise birthday present from her daughter.
Alison Gould said: "We had a great birthday with mum and she was delighted to finally get her certificate, which has now taken pride of place next to her card from the Queen.
"I had so often heard her talk about her days at university as special and very happy times and then she'd mention the lack of evidence of her achievements there."
Mrs Palmer went on to have a career in teaching as well as bringing up three children, who have now been followed by five grandchildren and three great-grandchildren.
Mrs Gould added: "It felt important to try to give her the acknowledgment of those days, and contacting staff at Manchester has enabled a sense of completion and celebration to finally happen!"
Professor Peter Knight, Head of English, American Studies and Creative Writing at The University of Manchester (formerly Victoria University), said: "In this centenary year for women's suffrage, it is important to celebrate the achievements of our alumni, and Catherine's life and work are an inspiration to our current students."
Mrs Palmer was described as "a very active student", singing in the choir, representing the university at fencing and athletics, and also enjoying climbing in the Lake District - an activity which she continued to enjoy later in life.
She moved to Glasgow after graduating and went on wartime placements at St Thomas's and St Mary's hospitals in London.